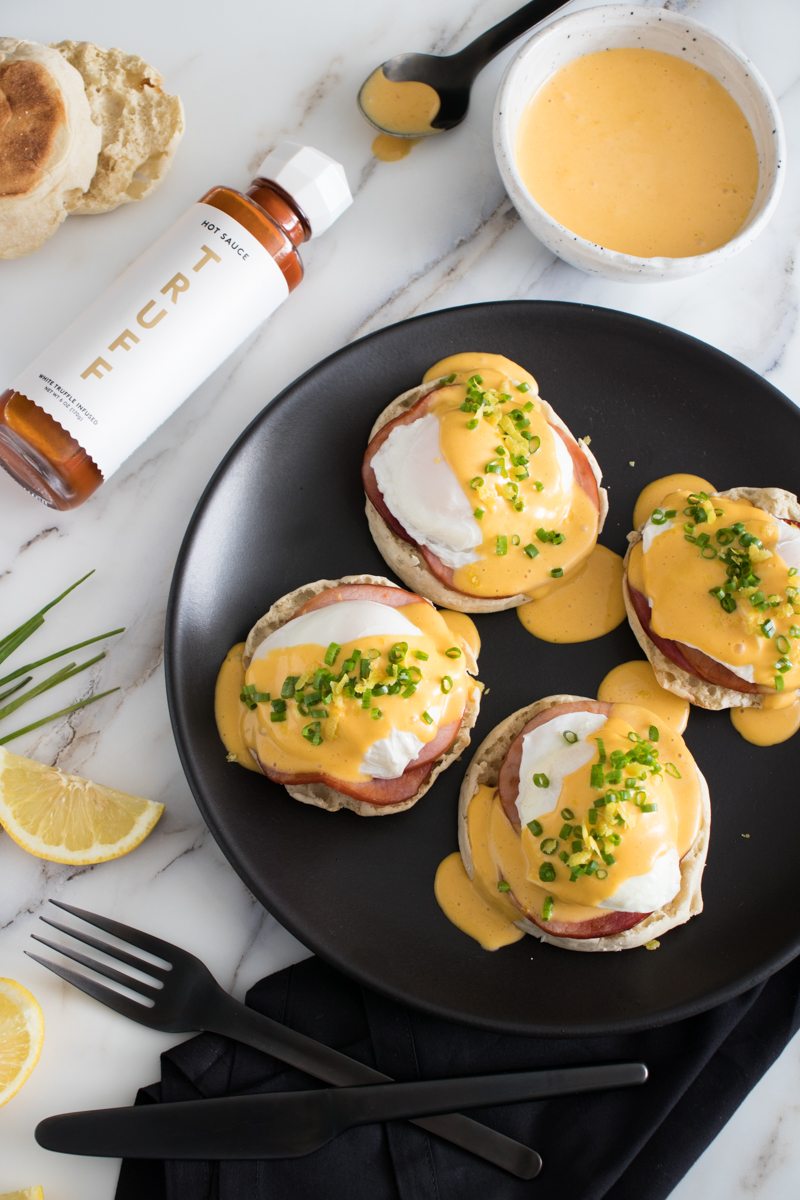 Eggs benedict with truffle hollandaise
Stop looking forward to the weekend just so you can order eggs benedict at brunch. Make it right at home any day of the week with ease! 
This brunch staple features perfectly toasted english muffins topped with pan-griddled Canadian bacon, a poached egg, and a TRUFF twist: Black Truffle Oil hollandaise sauce. You'll never want to eat out again!
Fill a large saucepan halfway full with water and bring to a simmer over medium-high heat. 
Place the egg yolks, vinegar, lemon juice, and dijon mustard in a medium, heat-proof bowl and whisk until blended and fluffy.
Once the water is simmering, reduce the heat to medium-low and place the bowl over the saucepan.
While whisking, add the melted butter and the TRUFF Black Truffle Oil slowly to the bowl until the sauce begins to thicken. 
Remove the bowl from the saucepan, season the hollandaise sauce with salt and pepper to taste, and set aside. 
Add the apple cider vinegar to the saucepan and add more water if necessary. 
Increase the temperature to medium.
Once the water begins simmering, add your eggs in batches of four and poach them for two minutes or until the whites are semi-firm. 
Using a slotted spoon, remove the eggs from the pan and set them aside. Repeat this process with the remaining eggs. 
Heat a large skillet over medium-high heat. Once it's hot, lightly grease the skillet with pan release spray and add the Canadian bacon slices. Work in batches if necessary. 
Sear the bacon for 1-2 minutes and flip them halfway through until both sides are cooked. 
Finally, toast your muffins in a traditional toaster and top them with the bacon, poached eggs, hollandaise sauce, and chives.