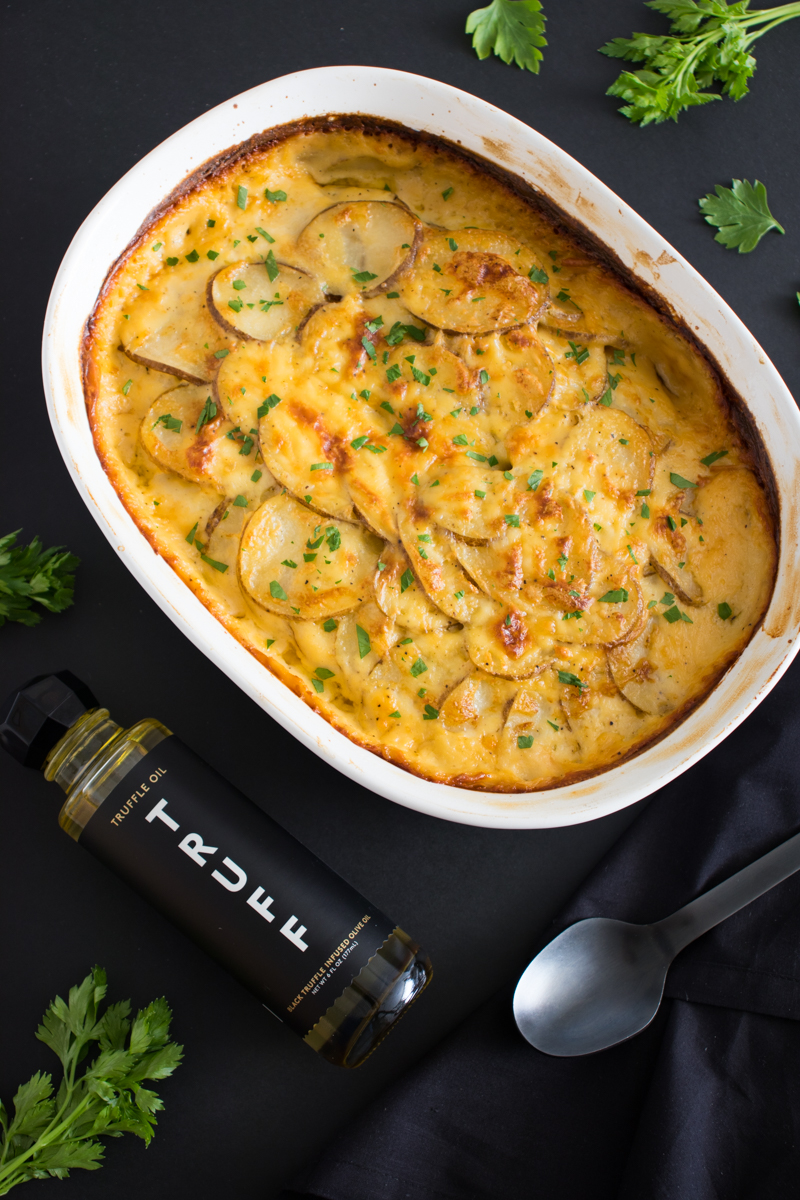 Savory Truffle Potatoes Au Gratin
Potatoes Au Gratin is an iconic casserole that never disappoints! 
This flavor-packed recipe features tender potato slices, sliced onions, and a creamy white and sharp cheddar cheese sauce blended with our spectacular TRUFF Black Truffle Oil. 
We're confident you'll be coming back to this recipe time and time again!
Preheat the oven to 350°F.
In a large casserole dish, place the sliced potatoes and onions in alternating slanted rows and set aside. 
Melt butter in a large saucepan over medium heat. 
Once the butter has melted, add the TRUFF Black Truffle Oil and garlic to the saucepan and sauté the ingredients for approximately one minute. 
Stir in flour to create a roux and cook for another minute. 
Add the milk and heavy cream to the saucepan and whisk to combine. 
Bring the milk to a low simmer and whisk the mixture frequently until slightly thickened. 
Add small handfuls of cheese to the milk and whisk to combine. Wait until the cheese has melted before adding the next handful to the mixture.
Season the cheese sauce with salt and pepper. 
Pour the cheese sauce over the casserole dish filled with potatoes and onions. Be sure to gently tap the casserole dish to level out the sauce. 
Cover the casserole with aluminum foil, place in the oven, and bake for one hour. 
After the first bake, remove the foil, return to the oven, and bake for 30 minutes or until the top is golden brown.
Remove from the oven and set aside to rest for ten minutes before serving. Garnish with chopped parsley.