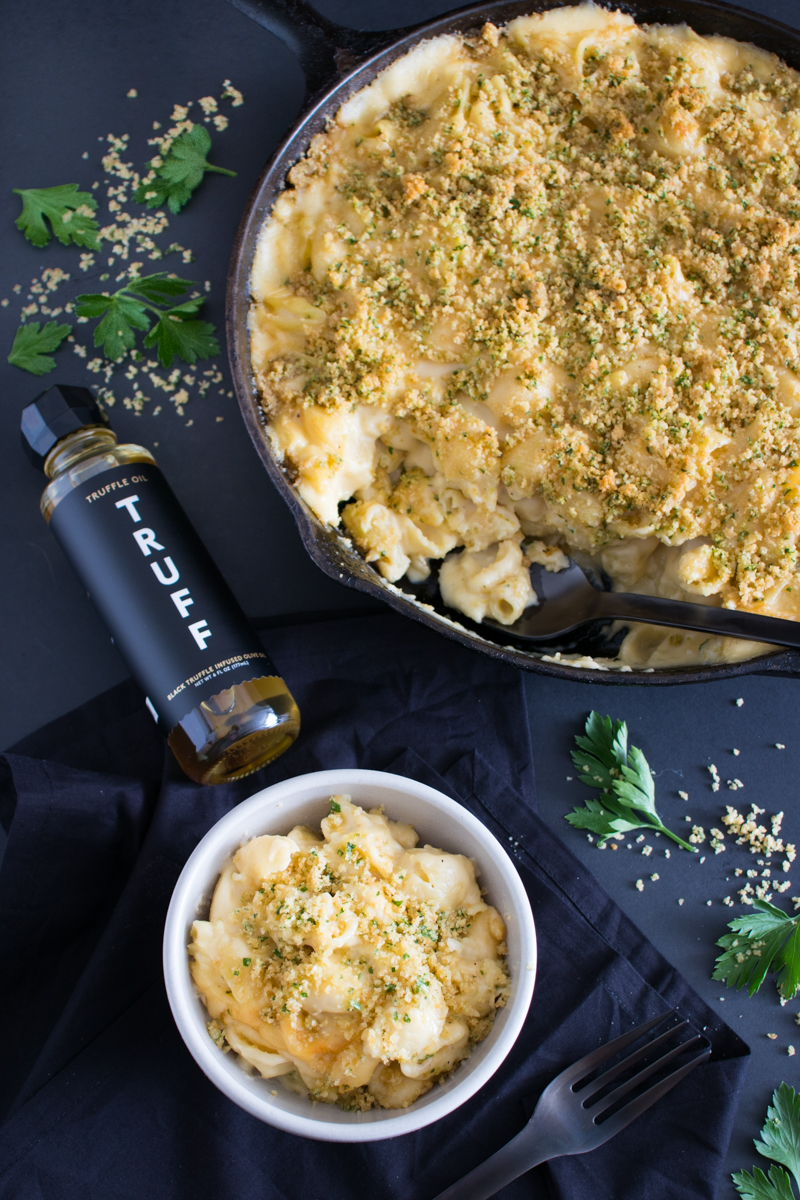 Skillet Mac & Cheese
There's nothing quite like homemade mac and cheese, and we like to think our recipe is the one to beat!
We cover our mac in a fragrant and delicious cheese sauce featuring gruyere, sharp cheddar, and our Black Truffle Oil. For the crispy top layer, we use only the finest Ritz Crackers.
Preheat the oven to 375°F. 
Cook pasta shells according to the instructions on the package, drain, and rinse under cold water. Set aside. 
Melt butter in a large saucepan over medium heat. 
Once the butter has melted, add TRUFF Black Truffle Oil, garlic, and shallots to the pan and sauté for approximately one minute. 
Stir in flour to create a roux and cook for one minute. 
Add the milk to the saucepan, bring the heat to a low simmer, and whisk the mixture frequently until slightly thickened.
Bring milk to a low simmer, whisking frequently, until slightly thickened. 
Add small handfuls of cheese to the milk and whisk to combine. Wait until the cheese has melted before adding the next handful to the mixture.
Place the cooked pasta shells in a large bowl, add the cheese sauce, and stir to combine. 
Transfer the mac and cheese to a large oven-proof skillet and spread it out in an even layer. 
In a medium bowl, stir together the Ritz Cracker crumbs, melted butter, and parsley. 
Sprinkle the bread crumbs over the top of the mac and cheese and place in the oven for 35-45 minutes or until it's golden brown.
Remove from the oven and let the dish rest for five minutes before serving.