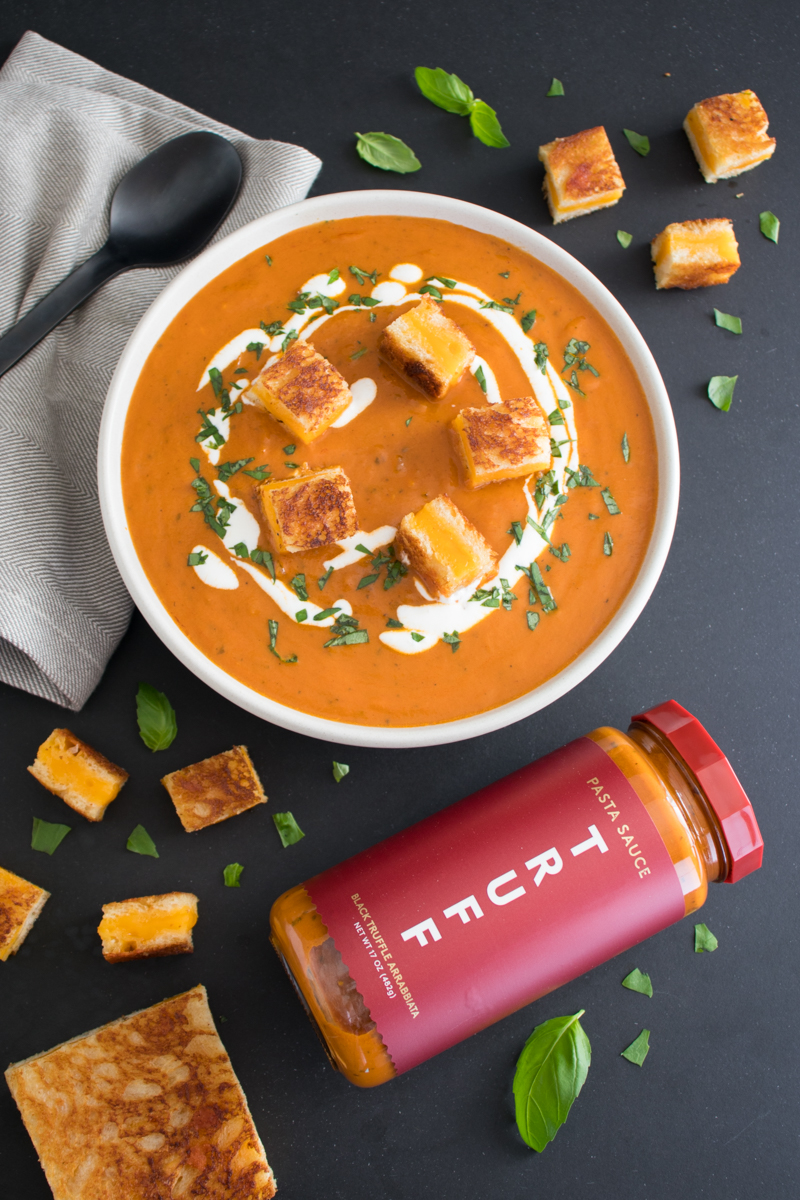 Spicy Tomato Soup with Grilled Cheese Croutons
Making soup can be intimidating, but we promise this recipe is so easy you'll be making it all season long!
For ease, we use our Arrabbiata Pasta Sauce as a base and add sautéed garlic, onions, and spices for a gourmet flair. This spicy soup is topped with miniature grilled cheese croutons that are loaded with flavor and cheese, of course!
Melt butter in a large saucepan over medium heat. 
Once melted, add garlic and onion and sauté for 1-2 minutes. 
Add cream, TRUFF Arrabbiata Pasta Sauce, vegetable broth, and sugar to the pan and whisk to combine.
Simmer the soup for 10 minutes and stir frequently. 
Season the soup to taste with salt and pepper and keep warm until ready to serve.  
While the soup is simmering, melt two tablespoons of butter in a large skillet over medium heat. 
Add 2 bread slices to the skillet and layer each slice with cheese.
Top the cheese with the remaining bread slices. 
Toast the sandwich on one side for two minutes and remove the grilled cheese from the skillet. 
Melt the remaining butter in the skillet and return the grilled cheese to the skillet by placing the un-toasted side down. Toast for another two minutes.
Remove from the skillet and set the grilled cheese aside to cool before slicing into large cubes.
Divide the soup between bowls and garnish with basil. 
Drizzle the soup with a little sour cream or heavy cream and add your grilled cheese croutons before serving.