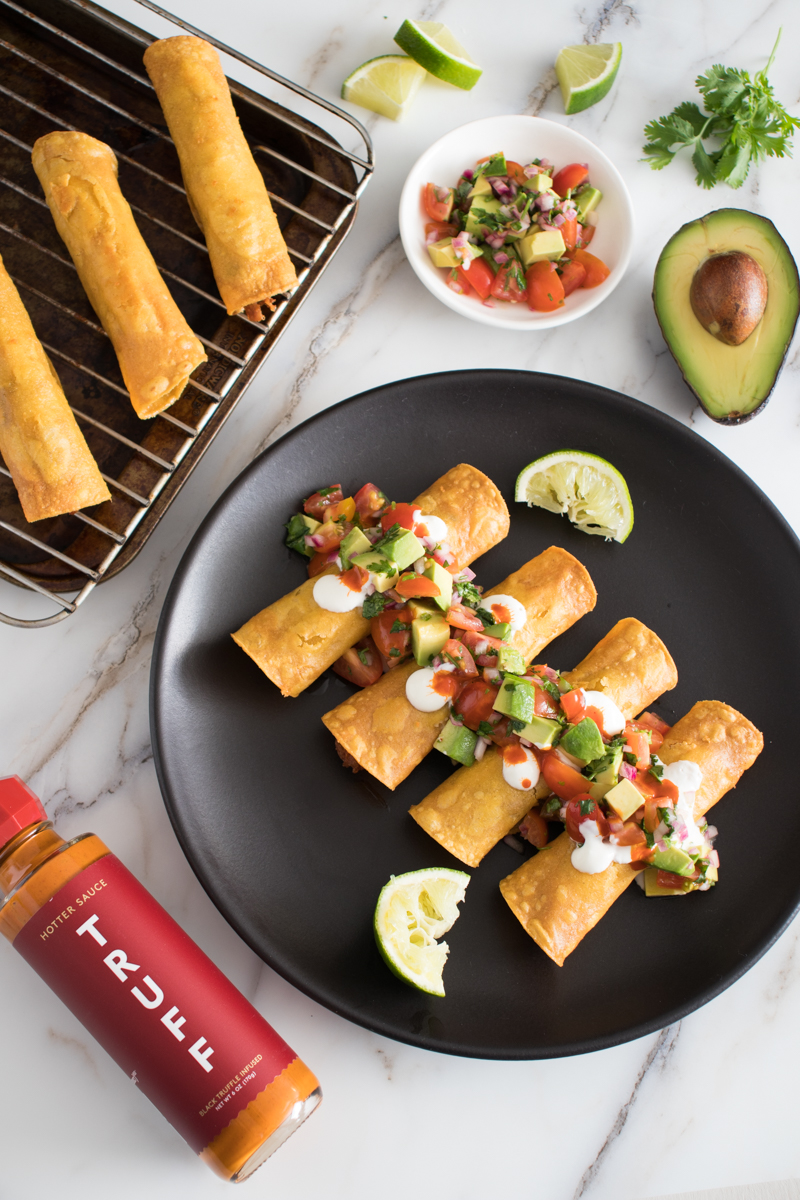 TRUFF Chicken taquitos
"Taco Tuesdays" don't need to be exclusive to tacos. Why not add taquitos into the mix?
Our taquitos feature seasoned chicken thighs fork-flaked to perfection and our very own TRUFF Hotter Sauce. Serve your taquitos with toppings like pico de gallo, avocado, sour cream, and cilantro. Soon, you'll be calling Tuesdays "Taquito Tuesdays!"
Preheat the oven to 350°F. 
Toss the chicken thighs in a large bowl with cumin, chili powder, salt, garlic powder, onion powder, and TRUFF Hotter. 
Place the seasoned chicken pieces on a large baking sheet and place in the oven. Bake the chicken for 10-12 minutes or until cooked through. Remove from the oven and set aside to cool slightly. 
Using a fork, shred chicken into small, bite-sized pieces. 
Wrap tortillas in paper towels and microwave for 10-20 seconds until warm and pliable. 
Working with one tortilla at a time, fill the center with a light sprinkle of cheese and 2-3 tablespoons of shredded chicken. Leaving the remaining tortillas wrapped to keep them from drying.
Roll the tortillas into a tight cylinder and set them seam-side down on a parchment-lined baking sheet. Repeat this step for the remaining tortillas.
Heat about 4-5 cups of oil in a large dutch oven over medium-high heat. 
Once the oil reaches 350°F, carefully add a small batch of taquitos and fry them for 1-2 minutes or until golden brown.
Remove the taquitos from the oil and set aside to drain on a wire rack or paper towels. Repeat this step for the remaining taquitos. 
Serve the taquitos with salsa, avocado, sour cream, cilantro, and lime wedges.