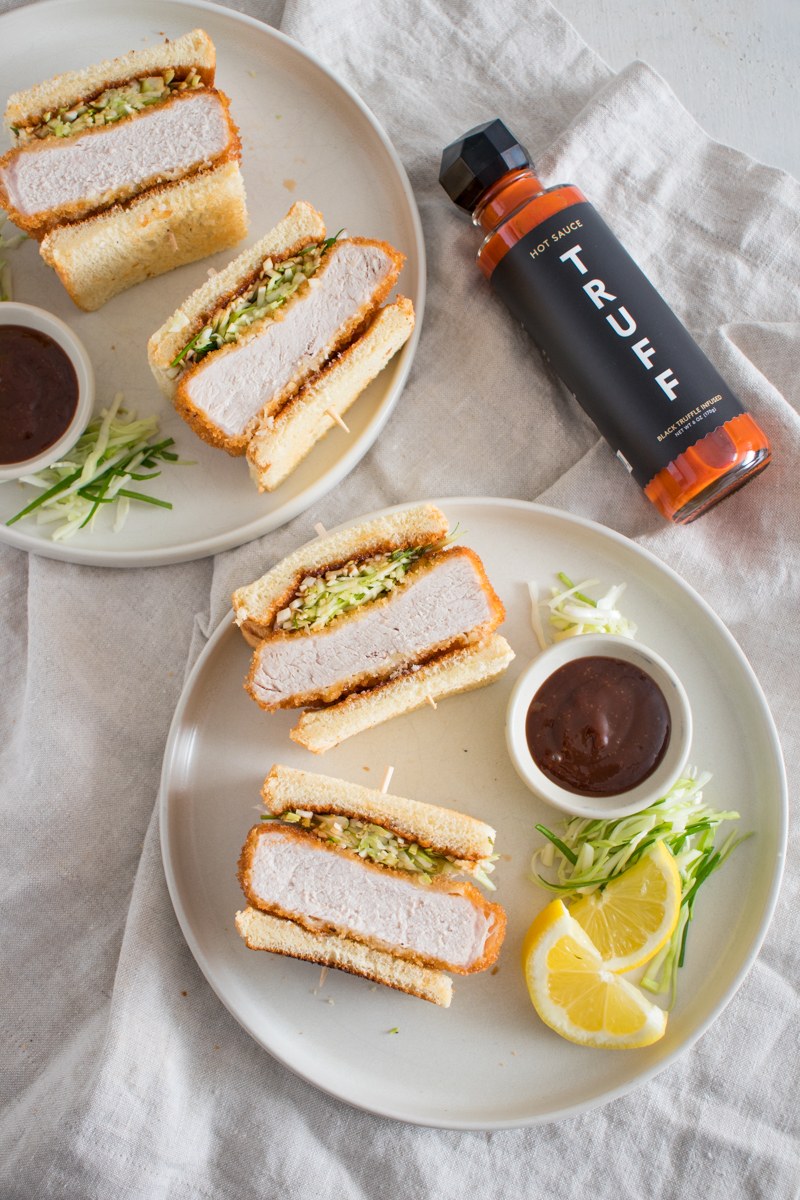 TRUFF Pork Katsu Sandwich
Tonkatsu is a traditional Japanese dish, but it can be remixed in a variety of ways! Try out this tonkatsu-inspired sandwich featuring fried pork chops topped with a tangy cabbage-scallion blend and doused with a TRUFF original katsu sauce.
In a medium bowl, combine ketchup, Worcestershire sauce, brown sugar, and TRUFF Signature Black Truffle Hot Sauce, and whisk until blended. Keep the sauce refrigerated until ready to serve. 
Heat the oil in a large pot or deep fryer over medium-high heat. 
Pat pork chops dry with paper towels. Using a meat mallet, gently pound the pork chops until they are approximately one inch thick. 
Set up your breading station by placing flour and salt in one medium bowl, eggs and wine in another bowl, and panko in a third. 
Coat pork chops in flour, shake off any excess, then dip them in the egg mixture. Lastly, coat chops in breadcrumbs and press with your hands to adhere. 
Once the oil reaches 350°F, carefully add the chops to the hot oil. Fry for 12-15 minutes until golden brown and the internal temperature reaches 145°F. 
Remove chops from the oil and set them aside on a wire rack to drain. 
While the chops are resting, place shredded cabbage, scallions, and lemon juice in a medium bowl and toss to combine. 
Spread katsu sauce over toasted bread slices and top with pork chops and slaw. 
If needed, secure sandwiches with toothpicks and slice them in half.