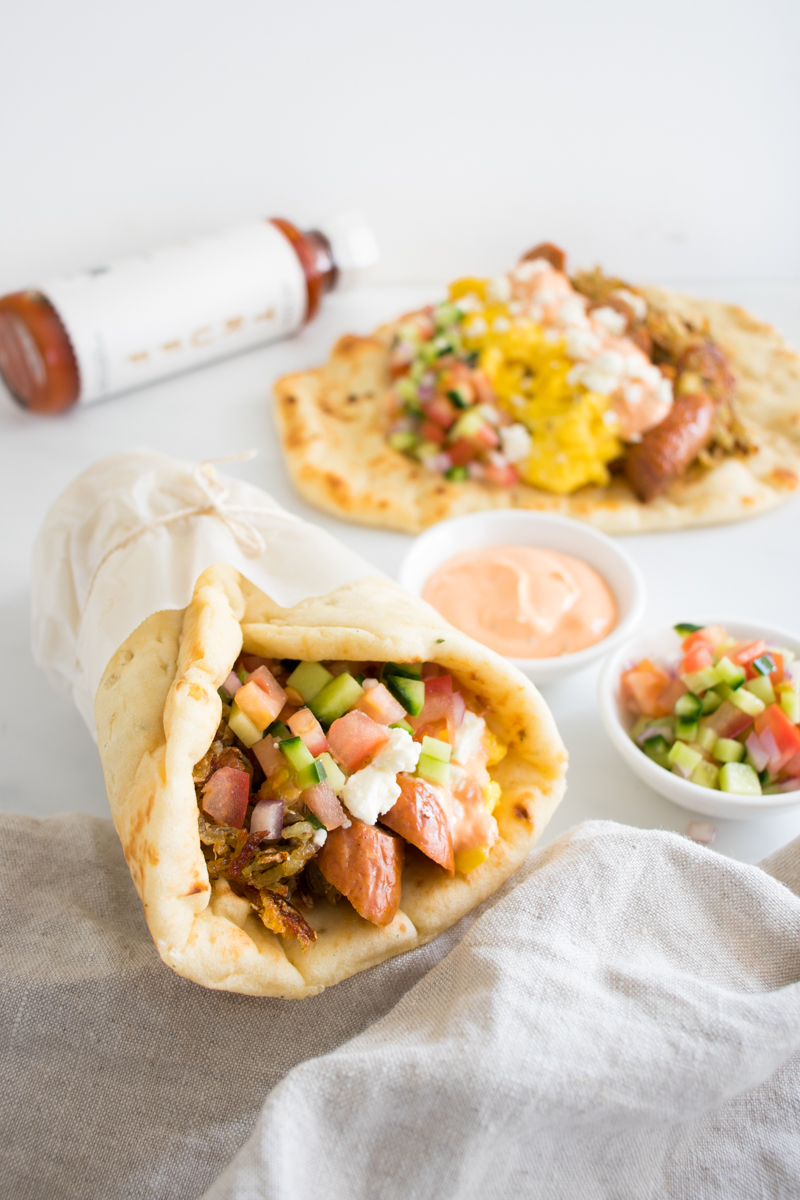 TRUFF-Style Breakfast Gyros
Who says you can't have Greek for breakfast? These fully loaded gyros showcase seasoned, shredded hash browns, sliced lamb sausage, and soft scrambled eggs, all inside a perfectly toasted pita. 
Pair the gyros with a tangy TRUFF tzatziki and an assortment of tomatoes, cucumbers, red onion, and feta cheese for the perfect breakfast dish!
Place yogurt, TRUFF, lemon juice, and dill in a small bowl and whisk until blended. Set tzatziki aside or keep refrigerated until ready to serve. 
Heat oil in a large skillet over medium-high heat. 
Once the oil is hot, add potatoes and season them with Greek seasoning. 
Spread potatoes out in an even layer and cook undisturbed for 1-2 minutes or until golden brown on the bottom. 
Break the potatoes up with a spatula and continue to cook for 1-2 minutes more or until evenly golden. Remove from the skillet and set aside. 
Cook the sausages according to the instructions on the packaging and set them aside before slicing them into bite-sized pieces. 
Return the skillet to medium-high heat and add additional oil if needed. 
Once the skillet is hot, add eggs and soft scramble them for 2-4 minutes. Remove eggs from the skillet and set aside.
In a medium bowl, place tomatoes, cucumbers, and red onion and stir to combine. 
Divide eggs, sausages, and potatoes between the pitas. 
Top each with tzatziki, veggies, and feta before serving.