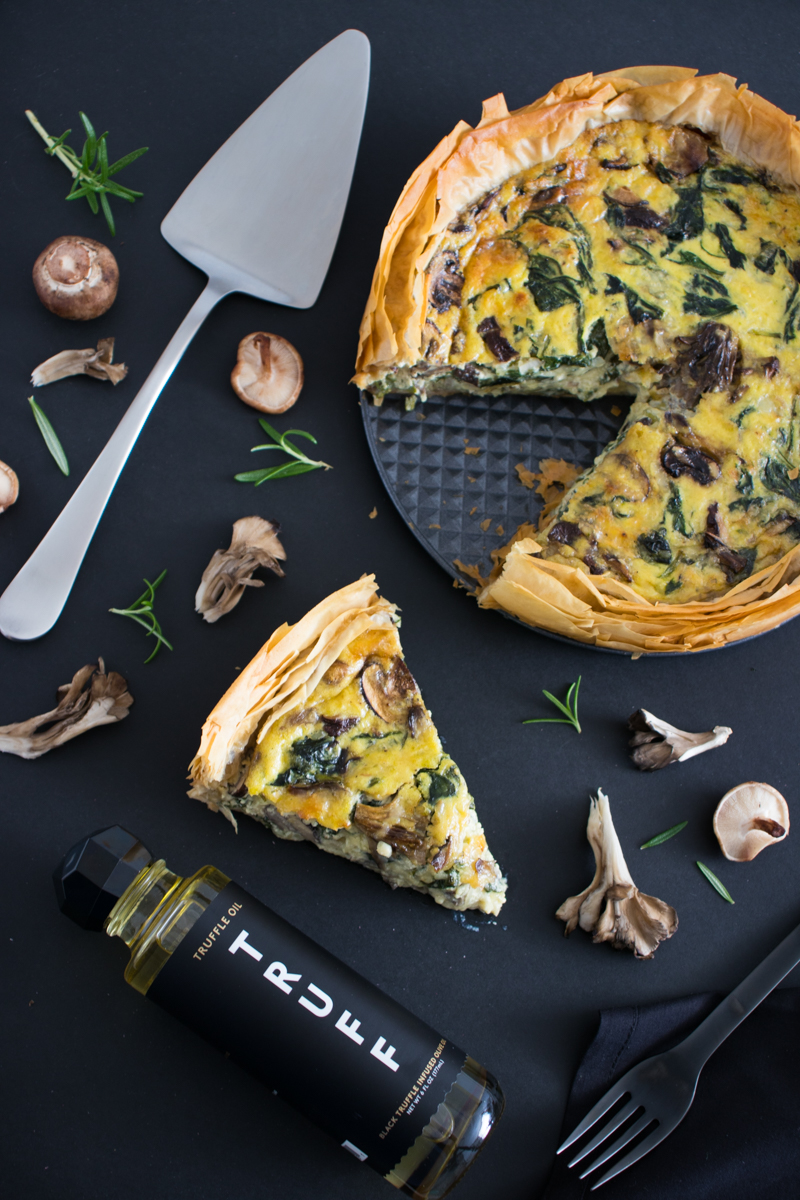 Truffle Spinach & Mushroom Phyllo Quiche
Sick of having the usual for breakfast? Spice things up with this delicious new A.M. recipe!
This quiche swaps the traditional pie crust for phyllo dough making it perfectly crisp! Each phyllo sheet is coated in butter and TRUFF Black Truffle Oil so you know this dish is packed with flavor. Sautéed wild mushrooms and baby spinach make up the bulk of the quiche filling and we top it off with sharp swiss cheese for the perfect melt-in-your mouth bite!
Preheat the oven to 350°F. 
Unroll the phyllo dough.
Whisk melted butter and TRUFF Black Truffle Oil together in a small bowl.
Brush a small amount of the TRUFF-butter mixture along the bottom and sides of a spring-form pan. 
Begin layering phyllo sheets evenly into the pan and brush each sheet with the TRUFF-butter before layering the next sheet. Set the pan aside. 
Heat olive oil in a large skillet over medium-high heat. 
Once the oil is hot, add the mushrooms and sauté them until they're tender for about 2 minutes. 
Add spinach in small batches to the skillet with the mushrooms, and continue to sauté until the spinach has wilted. 
Season the vegetables with garlic, stir to combine, and remove from the heat. Set aside to let cool slightly. 
Place the eggs, sour cream, heavy cream, and whole milk in a large bowl and whisk until blended. 
Add spinach, mushrooms, swiss cheese, salt, pepper, and rosemary to the bowl and stir to combine. 
Pour the quiche mixture into the prepared pan with the phyllo and place it in the oven. Bake the quiche for 40-50 minutes or until firm. Remove from the oven and let it slightly cool before slicing and serving.