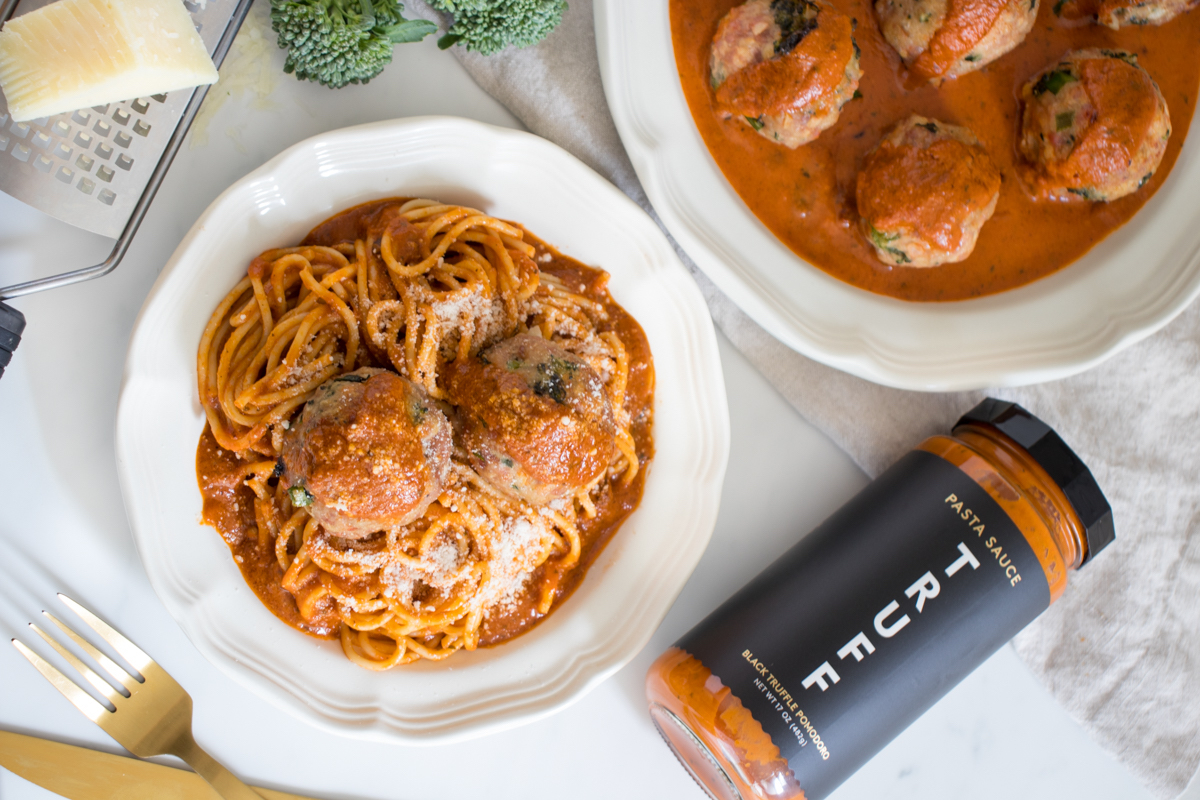 Pork, Broccoli Rabe, Pecorino Meatballs
A South Philly approach to meatballs! 
If you've ever visited the City of Brotherly Love, you know the locals go ga-ga over roast pork sandwiches (step aside cheesesteaks). And these meatballs pay homage to this iconic 'second' sandwich… ground pork, garlicky broccoli rabe, pecorino romano cheese, and our savory Black Truffle Pomodoro Pasta Sauce. 
Serve these with a side of your favorite noodle (we love the classic spaghetti) or smothered in cheese and stuffed into a soft hoagie roll.
Preheat the oven to 400°F.
Heat the oil in a large skillet over medium-high heat. Once hot, add garlic and onion and sauté until fragrant, 1-2 minutes.
Add broccoli rabe and continue to sauté until tender for a4-5 minutes. Transfer veggies to a large bowl.
Add pork, bread crumbs, eggs, pecorino, salt, pepper, and crushed red pepper flakes to the bowl with the veggies and mix by hand to combine.
Using a 1/4 cup measure, portion meatball mix and roll into balls. Place on a baking sheet and transfer to the oven.
Cook for 15 -25 minutes or until cooked through and golden brown.
While the meatballs are cooking, heat the TRUFF Black Truffle Pomodoro Pasta Sauce in a saucepan over medium heat. Simmer for 4-5 minutes.
Once the meatballs are done, drizzle or toss in the sauce and serve with your favorite noodles. Sprinkle with pecorino before serving.