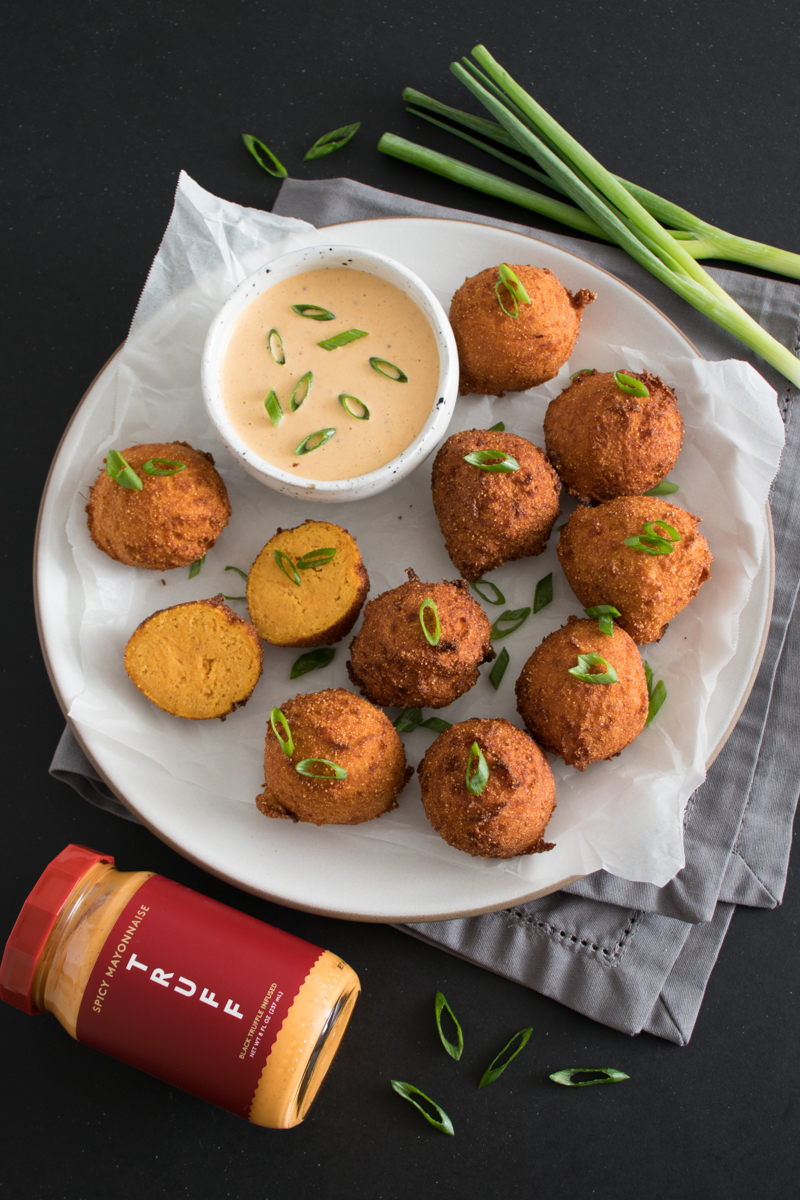 Sweet Potato Hush Puppies
Hush puppies are a southern side dish staple and are perfect for dunking in our savory TRUFF BBQ. The sauce uses TRUFF Spicy Mayonnaise as a base and is perfectly blended with vinegar, horseradish, and mustard for a tangy punch. Enjoy these bite-sized taters for breakfast, lunch, or dinner!
Know Your Ingredients
While cooking up batches of these southern hush puppies, you can be sure to recognize some of the great health benefits of using ingredients such as sweet potatoes and truffles. 
Sweet potatoes have plenty of antioxidant qualities and pair perfectly with the flavors in our black truffle-infused TRUFF Spicy Mayo. Our sauce is infused with real truffle flecks, another antioxidant-filled ingredient rich with nutrients!
Place TRUFF Spicy Mayonnaise, vinegar, horseradish, mustard, brown sugar, garlic powder, and onion powder in a medium bowl and whisk to combine. 
Season the sauce to taste with salt and pepper and refrigerate until ready to serve. 
Heat oil in a large dutch oven, high-sided skillet, or deep fryer over medium-high heat. 
Place mashed sweet potatoes, milk, egg, and brown sugar in a large bowl and whisk to combine. 
Add cornmeal, flour, baking powder, baking soda, and salt to the bowl and stir to combine the batter. 
Once the oil is heated to 350°F, portion the hush puppy batter using a small ice cream scoop. Carefully add the batter to the oil. 
Fry the hush puppies for about 2-3 minutes, turning them occasionally until browned.
Using a slotted spoon, remove the hush puppies from the oil and set them aside to drain on a wire rack or paper towel. 
Top the hush puppies with chopped scallions and serve with the TRUFF BBQ sauce.
Serving Suggestions
These sweet potato hush puppies make great snacks, or they can be a side dish or appetizer for a larger meal. In traditional Southern settings, hush puppies are usually paired with fried catfish. We suggest trying our Spicy Ranch Cornflake Chicken recipe for a decadent alternative to fried catfish. Plus, the homemade ranch in the recipe uses some of our TRUFF Spicy Mayo for double the spice.
If you want a larger main course to go with your hush puppies, we'd recommend trying something like our Sweet and Spicy Ribs. They make a delicious focal point for any meal. With this dish, you can also serve hush puppies in barbeque sauce. 
Or, if you want something to dip your hush puppies in, you can try sour cream with green onion or plain honey mustard.
Spice It Up (Or Down)
However, if you're simply interested in adding some additional spice and want to amp up the heat on your hush puppies, you could pair the recipe with some of our black truffle-infused TRUFF Original Hot Sauce for a pop of sizzling heat. Drizzle the hot sauce on top, or mix it into the TRUFF BBQ recipe that's served with the ribs to make it your own.
If that sounds too spicy for you, feel free to tone down the heat. You can keep that luxurious truffle flavor in our BBQ sauce recipe by substituting TRUFF Spicy Mayo for our no-heat, black truffle-infused TRUFF Mayo. You'll get all those mouth-watering truffle flavors without needing a pitcher of water to wash them down.
Sauce-sational TRUFF Options
Regardless of how you pair your hush puppies, just keep in mind that our TRUFF BBQ sauce is a recipe that's open for experimentation, and it's totally up to you to choose how to dip your snacks. When using our truffle sauces, you have plenty of options. 
If you're looking to try something besides black truffles as an ingredient, you can use one of our other sauces that include white truffles, such as our TRUFF White Hot Sauce. White truffles feature a lighter, more elegant garlicky taste than black truffles' bold, robust, and smoky flavor. So if you're uncertain about one over the other, we've got you covered.
We're always happy to provide a multitude of options to suit your tastes with any of our suggested easy recipes or sauces. If you're looking for something less spicy that's sweeter, lighter, or richer, we have got tons of options for you! Make sure to check out all our different sauces to find what exactly suits your needs for your kitchen.